26 Week Guide for Prayer Meeting
The following is an explanation of the 26-week study guide.. It is designed to be used in conjunction with his book And the Place Was Shaken: How to Lead a Powerful Prayer Meeting..
Click icon to download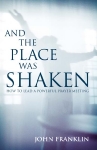 Purpose: This material has two purposes in mind...
To teach a group or congregation the basics of praying together in such a way that they experience the presence and power of God.
To transition a group or congregation over time into a biblical pattern of prayer.
What Is in the Material?
The material contains teaching points on how to pray.
The material develops a God-centered format to transition people from "needs-centered" format to a "God-centered" format.
It encourages participants to pick two consistent prayer requests they will pray for during this time (The reason for this is to generate learning by providing them with a clear way to focus and evaluate how God answers).
How to Use the Material
You will copy and handout the weekly sheet to participants. They may take it home for review.
You will teach on prayer for the first part of the prayer meeting, then you will guide the prayer time.
You will need to decide on the activities you want to use to guide prayer time.
For example, will you have them get into small groups, will you change locations one night, will you have people kneel, etc.? The book And the Place Was Shaken: How to Lead a Powerful Prayer Meeting (Broadman and Holman, 2005) devotes chapter 6 to giving you practical ideas on how to do that.